Friday, May 14, 2021
Ramiro Valdés checks economic programs in Nuevitas
---
---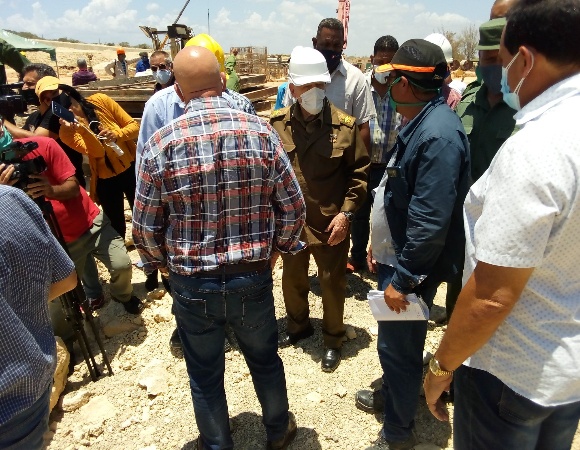 Camagüey, May 14.- The Commander of the Revolution Ramiro Valdés Menéndez, Cuban deputy prime minister, this Friday checked the progress of several programs of economic interest in the municipality of Nuevitas, located on the north coast of the province of Camagüey.
At the 10 de Octubre thermoelectric plant, Valdés Menéndez reviewed compliance with the generation plan and schedule of the unit's main maintenance actions, accompanied by Liván Arronte, Minister of Energy and Mines, and Armando Cepero, General Director of the Electric Union , according to Juan Ruiz, general director of Mining of the aforementioned ministry, published on Twitter.
"During a visit to Termoeléctrica" ​​10 de Octubre "in Nuevitas, @ValdesMenendez accompanied by Minister @arronte_livan, DG of @OSDE_UNE Armando Cepero and managers of @EnergiaMinasCub checked compliance with the generation plan and schedule of the main maintenance," Ruiz tweeted.
In addition, the Cuban Deputy Prime Minister toured the 26 de Julio cement factory, where he reviewed the modernization plan for said industry, together with government authorities from the province, the leader also reported on Twitter.
"During a visit to Nuevitas, we participated with Cmte. @ValdesMenendez and Camagüey province authorities in a meeting to check the modernization project, Cement Factory" 26 de Julio, "Ruiz wrote.
In his tour of that factory, Valdés Menéndez said that Nuevitas is an industrial city that recovers its capabilities, says the Commander of the Revolution himself in his official profile on Twitter.
"The construction of a modern cement factory is progressing in Nuevitas, an industrial city that is recovering its capabilities. #Cuba goes ahead and #Venceremos," said Valdés Menéndez.
July 26 will progressively have the capacity to produce 600 thousand tons per year, according to details offered by Adonis Núñez Fonseca, Vice Minister of Economy and Planning in the Mesa Redonda informational space, last February.
Likewise, it will increase the export of cement production to strengthen the association with foreign investment, with the objective of increasing the income that favors the payment of investments and increasing and sustaining national production.
This coastal Camagüey municipality has important economic entities, among them its fertilizer and cement factories, a water treatment plant and the dock, key sectors in the import substitution program, according to the Radio Nuevitas website.
Nuevitas, once the town of San Fernando, was the founding site of the city of Camagüey, one of the heritage cities of Cuba, in which the potential for tourism also grows with hiking projects and visits to places of historical interest, such as the architectural complex of the park, the church and the old Town Hall, dating from the 18th century, to which is added the natural wealth in the Los Ballenatos keys. (Newsroom Radio Cadena Agramonte with information from Cubadebate) (Photo taken from the Twitter profile of Ramiro Valdés Menéndez)