Saturday, June 5, 2021
Cesar Daniel: a child from Camaguey feels the planet is his home
---
---
By Dayessi García Sosa / Radio Cadena Agramonte.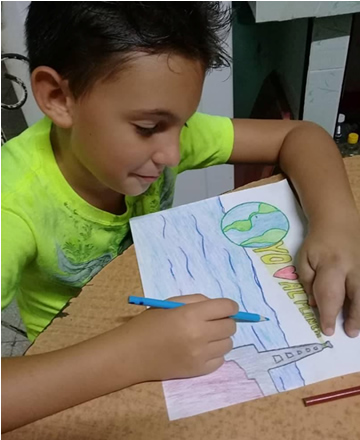 Cesar Daniel was told by his father about the contest; his father, who teaches him the fascinating world of nature.
Cesar Daniel López Cabrera has the privilege of having a family that educates him through love for the environment and patience to treat animals and plants.
This ten-year-old boy is confident enough to pursue his dream.
"My father told me that there was a drawing contest at the Camagüey Environmental Research Center (CIMAC) and I was excited to do it because I would like to save the planet from pollution and love it," he says in a shy but confident voice.
At the José de la Luz y Caballero primary school, in the city of Camaguey, César is in fifth grade and these days he takes advantage of the time he must stay at home to give free rein to his imagination.
"In the first drawing I made a hand removing planet Earth from contamination, and in the second I made a lighthouse illuminating that says I love the planet. I used two sheets and a box of colors", he assures eager to know the next questions. "My dad teaches me to take care of the environment," he says proudly, " since more and more trees have to be planted. In the Natural Sciences subject they also talk to me about this topic. Also, at my grandparents' house I have a cat called Misu, a mare, two dogs and several rabbits, and when I go there I help water the plants and sow the seeds, "he said.
The planet is my home is the name of the contest that CIMAC called and allowed this infant to provide a life lesson by demonstrating how much can be done when it comes to loving and defending our "big house." (Photos: by the author)