Monday, June 7, 2021
Solidarity project in Belgium prepares container with medical supplies for Cuba
---
---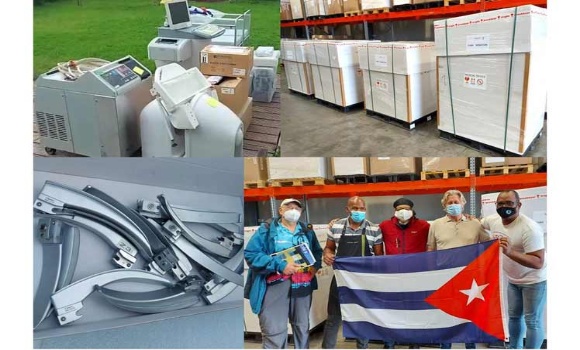 Brussels, June 7 - Cuban residents prepare with the support of Belgian citizens a container with medical supplies for the island, including syringes and needles for vaccination against COVID-19, announced today Reynaldo Romero, coordinator of the initiative.
In statements to Prensa Latina, he specified that Cubans living in Belgium and the Netherlands participate in the solidarity project, in this case the Cuba en mi Alma association, and Belgian organizations and individuals, whom he thanked for their commitment and help to Cuba, which faces the double impact of the US blockade and the pandemic.
According to Romero, the intention is to send the container in early July, with donations made by hospitals and citizens, and syringes and needles purchased with the money raised.
We are very happy, the work has been arduous, but it is comforting to see how we progress, for example the recent donation of a ton of equipment and resources for use in the cancer sector in Cuba, he stressed.
Regarding the vaccination against COVID-19, he indicated the goal of acquiring some 100,000 syringes and needles soon, from the money collected, a campaign in which solidarity associations such as Cubanismo.be and the Friends of Cuba in Belgium participated.
The Cuban government plans to immunize the entire population with its own vaccines before the end of the year, a goal that generated a spontaneous mobilization in various continents to provide syringes and needles, based on the limitations suffered by the island due to the impact of the blockade, intensified in the heat of the pandemic.
Romero recognized the nearly 20 people who make up the team in charge of promoting the project of shipping the container with medical resources and the collective efforts to guarantee the success of the noble initiative.
We are highly motivated, right now the priority is this humanitarian aid, but when we finish the work, new ideas will come in favor of Cuba and its people, he said.
Regarding the road ahead, he shared with Prensa Latina his intention to create the project Cuba is not alone, already in conversation with some people in Belgium, as a way to accompany the worldwide movement of caravans and mobilizations in rejection of the blockade.
All these actions demonstrate that Cuba is not alone, he declared. (Text and photo: PL)