Saturday, July 10, 2021
Diaz-Canel flags sports delegation for Tokyo
---
---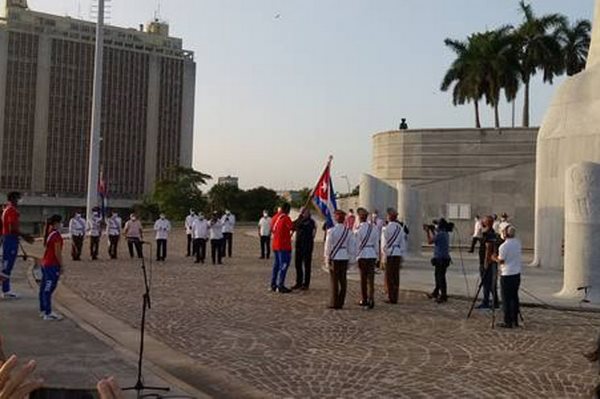 Havana, July 10 - The president of Cuba, Miguel Díaz-Canel, today flagged the sports delegation that will represent the country in the Olympic Games to be held from July 23 in Japan.
In the capital's Plaza de la Revolución José Martí, the dignitary presented the national banner to the triple Olympic champion in Greco-Roman wrestling MijaínLópez, who together with the discóbolaYaimé Pérez, will be the flag bearers for Cuba at the opening ceremony.
They escorted the multi-awarded Cuban gladiator, the young table tennis player Daniela Fonseca and the experienced taekwondoca Rafael Alba, who at the base of the monument to the Apostle, ratified the commitment to give the best of their talent for the sake of victory.
Experienced shooters LeurisPupo and Eglys de la Cruz placed a wreath on the statue of José Martí, National Hero of Cuba.
The judoka Idaliz Ortiz, Olympic holder in more than 78 kilograms in London 2012, was in charge of reading the oath of the athletes who will compete in the fight that will end on August 8.
Days ago the advance of the Cuban delegation arrived in Tokyo and the bulk of it will arrive on July 16, while the rest of the classifieds will travel on the dates of July 18, 21 and 28.
In the Japanese summer event, Cuba aspires to win four to five gold medals and finish among the first 20 countries in the general table of the competition.
Four years ago, in the version based in Rio de Janeiro, Brazil, the Caribbean nation finished in 18th place with five gold, two silver and four bronze medals.
Since its first foray into these events, in Paris 1900, Cuba has, according to the statistics of the International Olympic Committee, 78 titles, 68 second places and 80 bronze medals, for a total of 226 medals. (Text and photo: PL)