Tuesday, July 20, 2021
Foreign scholarship holders finish studies at the University of Camagüey
---
---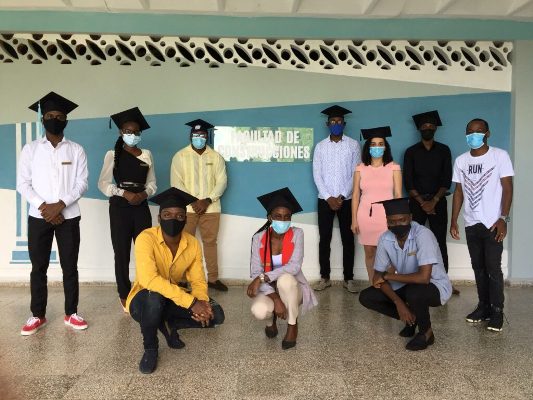 Camagüey, Jul 20.- Natives of nations such as Angola and Haiti, a total of 34 foreign students completed the process of completing their studies at the University of Camagüey (UC) Ignacio Agramonte Loynaz, which on this occasion had specific characteristics different from those of from other years due to the epidemiological situation in the province.
The new professionals who will enhance the workforce in these countries, and who have received comprehensive general training in this center, belong to the careers of Veterinary Medicine, Law, Electrical Engineering, Architecture, Civil Engineering and Chemical Engineering.
"It has been a different process and in a remote, difficult but successful and rigorous way, in which each graduate submitted their thesis online and until two of the members of a team made up of the tutor, opponent and member of the tribunal did not they were in agreement with the quality and the thesis score was not concluded", explained Dayana Figueredo Stewart, head of the Department of International Students at UC.
"All of our foreign scholarship holders have always been integrated with care and impetus to all the academic, scientific, cultural, sports events, in short, to the university environment, and now after successfully presenting their completion of studies exercise, as they will later receive their degrees of graduates of the Camagüey institution", added Figueredo Stewart. (Text and photo: Alexei Napoles González / UC journalist)