Thursday, July 22, 2021
Díaz-Canel visits COVID-19 affected areas and speaks with electrical workers
---
---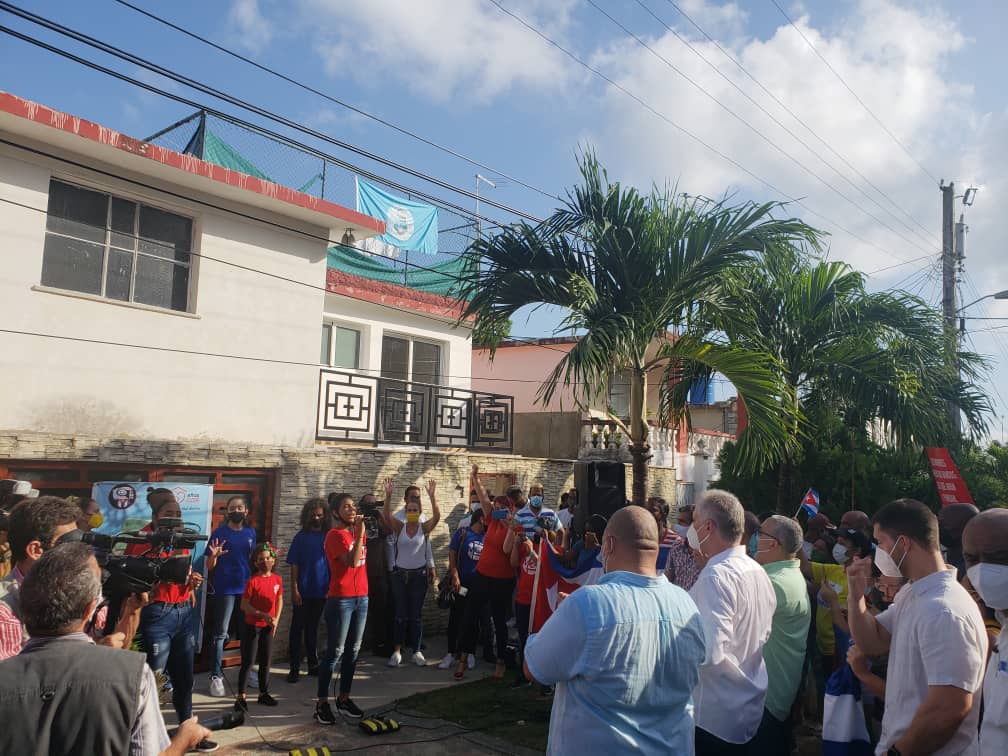 Havana, July 22.- Miguel Díaz-Canel Bermúdez, first secretary of the Central Committee of the Communist Party of Cuba and president of the Republic, today visited places linked to the confrontation with COVID-19 in this capital.
The Cuban Presidency refers on Twitter that the president visited the Romerillo neighborhood vaccination center, in the Playa municipality, where he shared with neighbors about the immunization process in the country and the need to maintain hygienic measures and physical distancing to avoid contagion.
Díaz-Canel was also at the Center for Molecular Immunology (CIM), a prestigious scientific institution that produces several drugs included in the Cuban protocol for the management of COVID-19, such as Itolizumab and Nimotuzumab.
At the CIM, between 400 and 500 PCR samples are processed daily to detect infections with the SARS-CoV-2 virus, the cause of the epidemic.
Likewise, there are produced the antigens for the vaccine candidates of the Sovereign series, developed at the Finlay Vaccine Institute.
Until this July 20, in Cuba two million 119 thousand 974 people have received the complete vaccination scheme against COVID-19, with the Abdala vaccine or the Sovereign 02 vaccine candidate.
Díaz-Canel highlights the effort of electrical workers in the capital
In addition, the President attended today the act on July 26 at the Electric Power Plant Maintenance Company, in this capital, where he highlighted the effort and courage of its workers to achieve the stability of the country's electricity system.
According to the Twitter profile of the Cuban Presidency, the also First Secretary of the Central Committee of the Communist Party of Cuba spoke with workers of the entity, emphasizing the record time of repairs at the Antonio Guiteras thermoelectric plant.
"#Today the tribute is to men and women who a few days ago, and from total anonymity, restored electricity in the country," says the Presidency in the aforementioned social network.
In recent weeks, there have been damages in the distributed generation of electricity in Cuba, due to breakdowns in thermoelectric plants that have their cause in the failure to comply with the programmed repair cycles, due to the impact of the economic, commercial and financial blockade of the United States.
Faced with this situation, the personnel of the Electricity Union of Cuba have worked to sustain the vitality of electricity generation in the country.
Recently, and after complicated arrangements in the structure of the boiler, the Antonio Guiteras thermoelectric plant in Matanzas was synchronized with the National Electric System, contributing about 260 megawatts. (ACN) (Photos: Twitter profiles of the Cuban Presidency and the Molecular Immunology Center)