Thursday, July 22, 2021
Abdala continues immunizing in Camagüey
---
---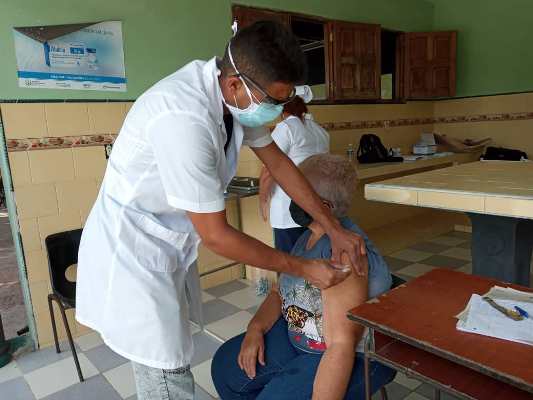 Camagüey, Jul 23.- This scenario has become common in the neighborhoods and communities of Camagüey when the people go to various sites equipped with the necessary conditions to receive the corresponding doses of Abdala.
This is the case, for example, in the home of Juan Ramón Zayas Sánchez, since those who belong to the clinic 22 of the East polyclinic of the provincial capital arrive there, and about the development of the process, Dr. Yaquelín Pérez Escobar, a first-degree specialist in Integral General Medicine, explained that it has had acceptance in the town.
The team also works for approximately 10 hours a day, which is also made up of a nurse, a stomatologist, and students of Medical Sciences who watch over the vital signs in the surveillance area, without serious reactions having appeared so far.
Various entities intervene in the success of the vaccination, with the support of mass organizations such as the Committees for the Defense of the Revolution and the Federation of Cuban Women.
The process marks from the Health personnel, since as Dr. Yaquelín Pérez Escobar assured, "it is a pride and a privilege to participate in this important step in the community, and it will be greater when almost all are immunized and the cases and cases decrease deceased".
In places like the one that this doctor attends, the administration of the second dose of Abdala takes place in the municipality of Camagüey.
Also read: Vacuna Abdala reaches four municipalities in Camagüey
This process has also been joined by the territories of Florida and Carlos Manuel de Céspedes, as well as Nuevitas, which started it a few days ago and Sierra de Cubitas will soon. (Juan Mendoza Medina / Radio Cadena Agramonte) (Photos: courtesy of Lizneidy Martí Cordero)