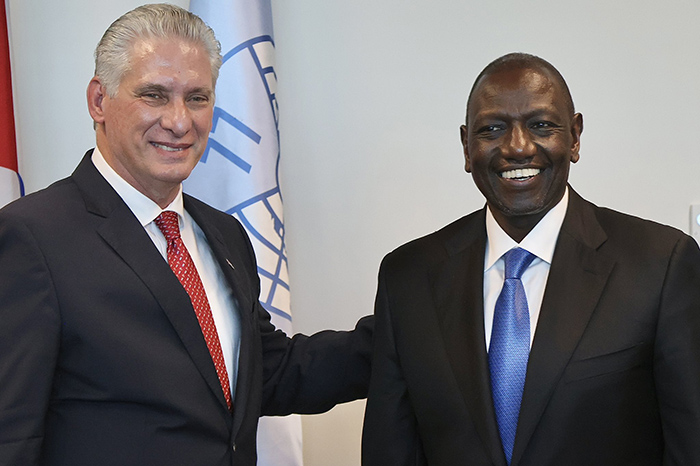 Havana, Sep 20.- Miguel Díaz-Canel Bermúdez, First Secretary of the Central Committee of the Communist Party of Cuba and President of the Republic, met with William Samoei Ruto, his counterpart from the Republic of Kenya, in the context of the 78th period of sessions of the United Nations General Assembly.
During the meeting, the Cuban president thanked Ruto for the participation of a delegation from his country in the Summit of the Group of 77 and China, held on September 15 and 16 in Havana, according to the Cuban Foreign Ministry website.
Díaz-Canel took advantage of the occasion to ratify his Government's will to continue working to strengthen relations of friendship and cooperation between both countries.
Cuba and Kenya will celebrate 28 years of diplomatic relations next October.
Currently, a medical brigade and vector control specialists are working in Kenya to combat malaria, and young Kenyans are studying medicine in the largest of the Antilles.
Kenya has consistently advocated in the United Nations General Assembly and the African Union for the end of the blockade imposed by the United States against Cuba.
On the Cuban side, Bruno Rodríguez Parrilla, Minister of Foreign Affairs, José Ángel Portal, Minister of Public Health, and other officials of the Foreign Ministry were present. (Text and photo: ACN)
---