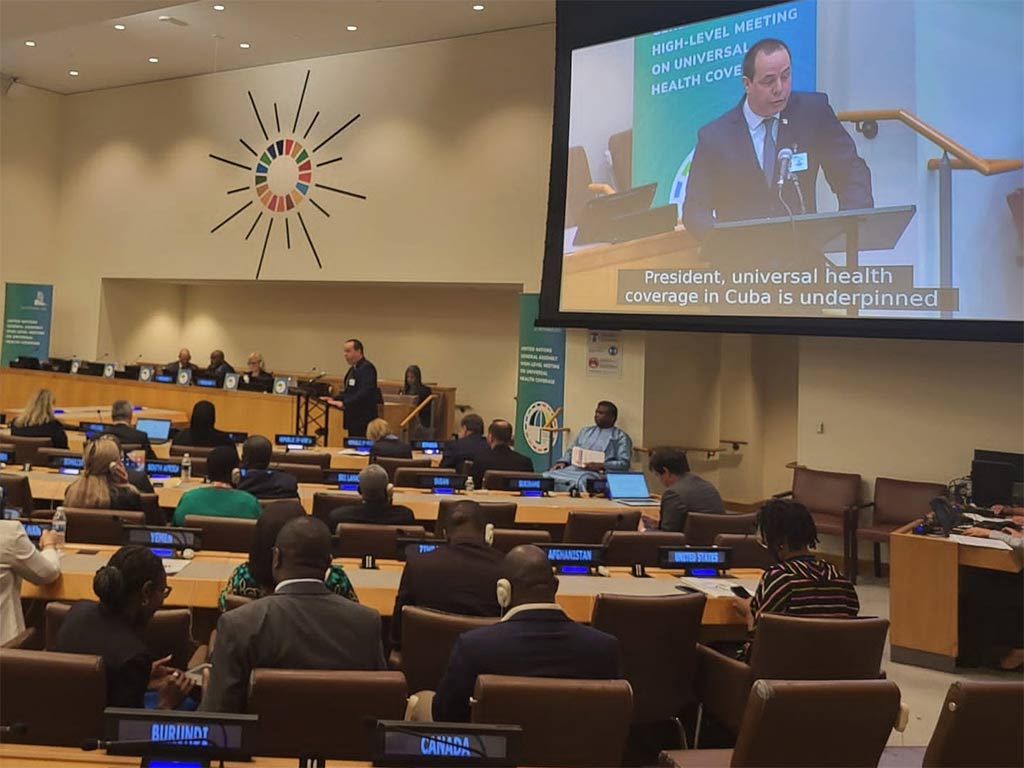 United Nations, Sep 22.- If achieving universal access to health services was already a great challenge before COVID-19, the situation of health systems is now more precarious, said today the Minister of Health of Cuba, José Angel Portal Miranda.
Speaking at the high-level meeting on Universal Health Coverage of the 78th United Nations General Assembly, the head of the island indicated that this aspiration remains a utopia today in many regions of the world.
He pointed out that it is impossible to speak of universality, when there are more than 700 million people mired in extreme poverty and countless communities have been historically neglected in this sphere, while a purely commercial vision of Health services and the pharmaceutical industry prevails.
Portal specified that systemic obstacles continue to be faced, which demonstrate the urgency of a new approach to solve these realities and achieve a truly just and equitable world order.
For a significant group of developing countries, the main components of Universal Health Coverage, such as the availability of a predictable financing system, well-trained health personnel and access to essential medicines and technologies, are still unattainable.
Solid and consolidated health systems are also necessary, in the face of the highly worrying phenomenon of the privatization of public health care services, with a very negative impact on the economy of the poorest and most vulnerable segments of society, and a devastating effect on the right to health in general, he stressed.
The Cuban minister stressed that in this context, it is urgent to defend Universal Health Coverage as one of the central objectives of public policies, as it is the most powerful concept that public health has to offer.
He highlighted that such a principle in Cuba is based on the right to health of all its citizens, endorsed in the Constitution of the Republic and based on a strategy that prioritizes primary care.
He emphasized that not even the negative effects of the economic, commercial and financial blockade imposed by the United States on the island have prevented it from having a public, universal, free and unique model of service provision, with a strong community base and showing more than 60 years of international collaboration in this area.
"Cuba reiterates the urgent need to guarantee access for all people, anywhere on the planet, to health services, in which ethical, humanistic, and scientifically and technically well-prepared professionals perform," he indicated.
In this increasingly unequal world, with profound social injustices and lack of public financing for basic activities, greater political will, government commitments and sectoral actions are needed to reduce inequality gaps and maximize the health standards of our people. Portal stressed. (Text and photo: PL)
---