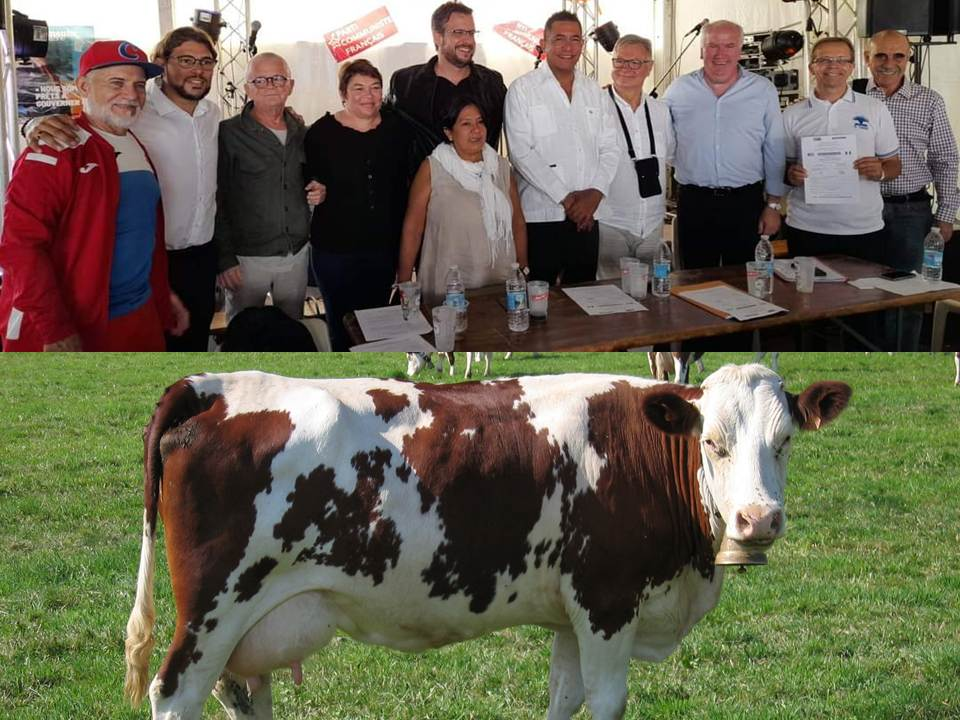 Paris, September 19.- French organizations are working in coordination with Cuban authorities to materialize the Give milk to your child project, which foresees the sending of a thousand inseminated cows to the island, the promoters of the initiative highlighted today.
The network of solidarity companies Club des 33 and the association Cuba Coopération France (CubaCoop) promote from the North department of the French nation the support for the Greater Antilles in a sector hit by the economic, commercial and financial blockade imposed by the United States for more than six decades.
The president of the Lille Métropole Committee of CubaCoop, Pascal Varet, explained that the objective is to strengthen the milk subsidiary in the Caribbean country, with the vision of beginning execution as soon as the conditions are created.
The traditional festival based in the Paris Region La Fête de l'Humanité hosted the presentation of the project, with the participation of the president of the Club des 33, Patrick Soloch, and Varet himself, in the presence of the Cuban deputy and political leader Elier Ramírez and of Ambassador Otto Vaillant.
To outline the initiative, last month the committed organizations traveled to the island, where we signed a protocol with local authorities, headed by the Ministry of Agriculture, Varet added.
The creation of the conditions for shipping involves issues such as transportation, quarantine, veterinary care and feeding of Montbéliarde cows, a breed recognized for its dairy capacity.
According to the representative of CubaCoop in Lille, the cost of Give milk to your child is around three million euros, after the increase in the initial amount, set before the Covid-19 pandemic and its economic consequences.
We trust in the contribution of other companies, organizations and the general public, Varet said.
In a first stage, some 250 cows would travel to the Antillean nation in the coming months, destined for farms in the central province of Cienfuegos and the municipality of Guanabacoa, in Havana, chosen for the pilot test.
Deputy Ramírez, member of the Central Committee of the Communist Party and the Council of State, and Ambassador Vaillant thanked the project promoted by the Club des 33 and CubaCoop.
Speaking at the presentation at the Fête de l'Humanité, both denounced the impact of the US blockade, which attacks the well-being and development of children. (Text and photo: PL)
---